Do you have a very ugly scar in the face? If you do, then it is likely to be an atrophic scar. This type of scar begins in the formation of acne, varicella or chicken pox.
A lot of people are convinced that this type of scar is untreatable due to the damaged skin tissues. The skin's collagen is destroyed during inflammation which highly leads to atrophic scar.
So before you give up and lose hope, this article will give you some ideas on how to reduce the appearance of atrophic scars naturally.
What is Atrophic Scar?
Before I dive to atrophic scar, let me refresh you what the root word scar is. Scars are parts of fibrous tissue that develops after an injury, wound or skin disease that affects the normal skin.
Scar or scarring is a normal process of healing of the skin but will result to different appearance from its previous form. Any wound, minor or major lesions can result to a certain degree of scarring.
Types of scars varies from its origin. This includes the following:
Hypertrophic
Keloid
Atrophic
The most common are hypertrophic and keloid scarring which can developed from any types of injuries or lesions. So what about atrophic scar?
Atrophic scar looks like a sunken skin, which is represented by a pitted appearance caused by skin tissue damage beneath it. The fat or muscle tissue that keeps the skin puff are damaged or lost completely due to skin inflammations such as acne development or other skin diseases.
This type of scar formation is a necessary process of skin tissue healing after injury or disease. Further destruction or abnormal production of the collagen may cause poor reversal of the cutaneous surface (skin) and will have unusual texture.
Collagen destruction do have various factors on how your skin will scar. This includes depth, size of the wound, age and family history. Scars are not harmful but it is susceptible to several environmental factors such as overexposure to sun.
So with pitted or depressed appearance, atrophic scar is very simple to identify.
Read More: Scar – WkiPedia
How to Prevent Atrophic Scar?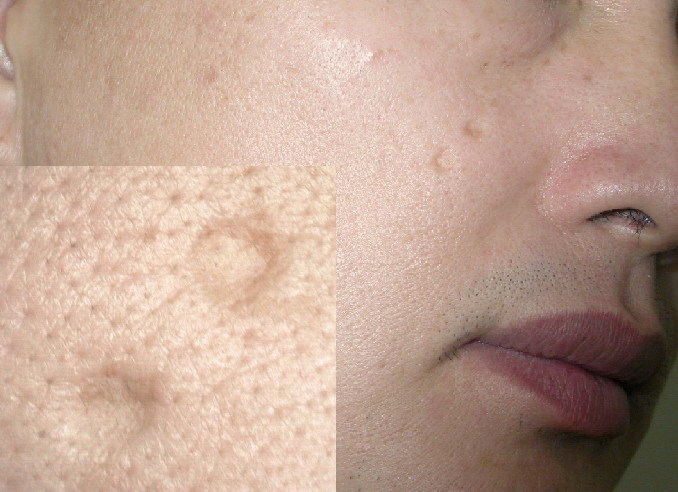 Atrophic scars are commonly caused by acne development, and few are caused by other diseases such as chicken pox and many others.
The only way to prevent atrophic scarring is to apply a complete skin care program that will prevent the development of the aforementioned skin diseases.
Below are some tips that you can do to prevent skin scarring.
Live a healthy lifestyle (exercise and balanced diet)
Avoid bad habits (smoking, too much alcohol, etc.)
Have an adequate night sleep
Prevent sun damage
Clean and exfoliate your skin with skin care products
Manage stress
Otherwise, if you are currently suffering from acne, chicken pox or varicella, the best way to prevent the development of atrophic scar is to treat the disease as early as possible. Early treatment will reduce the negative effects of skin inflammation which can lead to less scarring.
Management and Treatment of Atrophic Scar
Management of atrophic scar requires consistent skin care regimen. Application of skin cleansers can help remove dirt, excess oil, bacteria or cosmetic ingredients without causing any types of irritation.
Soaps are not recommended as it can dry your skin which is not good for atrophic scar. You also don't have to rub your scar as it won't come back to its previous form with just rubbing. Moisturizers can also help keep the skin healthy and are prefect for sensitive skin.
With regards to treatment, there are several ways that can help treat scar. The scar however is irreversible but these procedures can help reduce the appearance of atrophic scar.
Filler Injections
Injections of collagen or commonly referred as Artefill, can be used to level the surrounding skin of the pitted skin area of an atrophic scar. However, filler injections have risks that you should consider such as further disfigurement, allergic reactions or temporary improvement.
Laser Treatment
Laser therapy or laser treatment for scarring is another ideal procedure that you can try for your atrophic scar. The commonly used laser treatment for atrophic scar is abalative laser such as the carbon dioxide laser or Er:YAG.
Ablative lasers work by eliminating the epidermis to a certain depth. Experts suggests that ablative laser therapy posed greater risk but can offer great results than non-ablative therapy procedures.
Read More: Laser Treatment for Atrophic Scar – National Institute of Health
Other types of treatment includes:
Subcision
Chemical peels
Hyaluronic acid fillers
At home you can use skin camouflaging cosmetics to effectively cover up the pitted appearance of atrophic scar. Topical scar cream that contains tretinoin or retinoid can help increase the production of collagen production, which can help improve the appearance of atrophic scar.
Read More: Revitol Scar Cream Removal
Atrophic Scar Summary
Atrophic scars are sometimes unavoidable and completely irreversible. But that doesn't mean you can't do anything to reduce the bad appearance of your atrophic scar.
The above treatment options can effectively reduce the appearance of your scar. The laser therapy can be effective but it also has some health risks and the procedure is also pricey.
The best way to do before you opt to undergo a laser or filler injection treatments, is to use topical creams such as the one I suggested above. Scar cream removal can help reduce your scar into a certain significant degree without leaving your home and depleting your finances.
Overall, scars are normal process of body healing. You can't escape the dilemma of having too many scars in your lifetime. However, you can reduce your scars by following some treatment procedures mentioned above.
Did you like this article? If you do, then please share this post to your social media profiles and help this article go viral online. The social media buttons are placed below to easy posting.
Otherwise, you may also leave your opinions, suggestions or recommendations regarding this topic by commenting below. Please help others know about your experiences with atrophic scar and hopefully we can build a healthy community in this site.
Recommended Health Supplement
NUYU SUPERFOOD
One of the bestselling and proven effective multi-vitamin, detox and immunity health supplement in the industry. You will never use your old supplement once you tried NUYU Superfood for your overall wellness program.
One of the bestselling health supplement online
Proven safe and effective formula
Detoxifies your body
Improves overall health
Anti-stress and immunity support
Provides superfood nutrients
Money-back guarantee
Click here to Purchase NUYU Superfood
Images from:
www.scarformula.com
www.canadianmedicine4all.com