Are you bothered by pregnancy stretch marks? If yes, then it is time to get rid of that unwanted skin condition. Stretch marks should not cause you any stress and you deserve the right to know how to overcome stretch marks naturally.
This post will discuss the different facts about pregnancy stretch marks such as the causes, prevention tips and available treatments. So if you thought that your stretch marks will stay on your mid-section forever, think again! There is definitely hope.
So without further ado, let me start this article with a little introduction about this pregnancy-related skin condition.
What is Stretch Marks?
Stretch marks is a dermatological term of skin scarring with an off-color hue. Sometimes called striae, this condition are caused by damage to skin dermis through over-stretching.
This can occur in men with big tummies due to weight change, but is more prone to pregnancy in women. Damage or tearing of the dermis can heal but it leaves a scar-like appearance.
The line appearance of striae commonly develops along the abdomen, but it can also occur on the breasts, thighs, hips, lower back and buttocks. Other causes of stretch marks are hormonal changes during puberty, body building, hormone replacement therapy and many others.
This condition is completely harmless and is just a usual phenomenon whenever the skin is stretched. It thus however, make your skin unattractive which can give you constant distress.
Are Pregnancy Stretch Marks Different?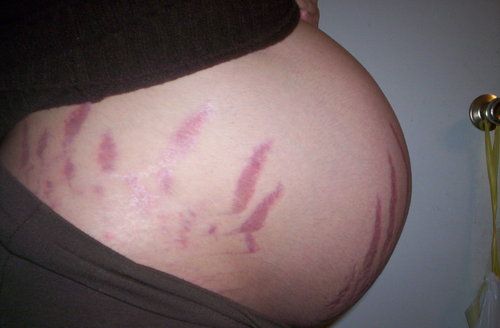 Several studies have confirmed that pregnancy-related stretch marks is different from the rest. There are two interesting factors that can cause pregnancy stretch marks.
The first factor is the physical stretch of the skin that occurs during the pregnancy periods. Usual weight gain stretches the skin in a slow manner, which enables your skin to adapt to the stretching.
Pregnancy is a more complex situation because the skin is continuously expanding and contracting, giving difficulty for your skin to adjust. As your body changes rapidly than your skin's capacity to stretch, then it will lead to skin tear known as pregnancy stretch marks.
The second factor involves cramming of the skin due to increased levels of hormones caused by pregnancy. The theory is that, these hormones absorbs a lot of water into the skin, which causes the bonds between collagen fibers to relax which constitutes to skin tear when over stretched.
However, this second cause of pregnancy stretch marks have split opinions among both health experts and medical professionals.
Read More: American Pregnancy Association
Pregnancy Stretch Marks Prevention
If you are having a baby, you are probably wary about the possibility of stretch marks. Well, you should because according to some surveys, there is only 25% chances that you will escape stretch marks during pregnancy. Even genetics doesn't play any role with regards to stretch marks prevention.
To prevent pregnancy stretch marks to occur, you need to have knowledge about stretch marks in general. The hormonal levels during pregnancy are said to boost during the sixth or seventh month, so primarily that is during the 3rd trimester.
During this trimester, the skin stretches in full force. Experts recommends that you use a combination of anti-stretch marks cream and massage therapy to help prevent skin tearing.
A German research team conducted a study regarding the effectiveness of creams and massage for pregnancy stretch marks. A cream was given to pregnant volunteers during their pregnancy period and found that only one-third of women developed stretchmarks.
The cream was not specialized at all but contains natural ingredients such as gotu kola extract, vitamin E, panthenol, menthol and grapefruit seed extracts. Other research conducted similar process with same results.
Most experts have similar recommendations, suggesting a constant application of moisturizing creams to protect the skin against dryness and itchiness during the stretch period.
Read More: Revitol Stretch Mark Prevention
It is best to moderate your food intake during your pregnancy period to avoid stretching your skin to its limit. So talk to your dietitian or your OB-Gyne about the right foods to eat during the whole duration of your pregnancy.
Pregnancy Stretch Marks Removal
If you were not able to prevent stretch marks during pregnancy, there are several ways to actually improve the appearance of an existing stretch marks. Others even claimed that their methods can remove it completely.
Methods such as laser treatments, dermabrasion, surgeries and prescription retinoids are all used to help improve or remove pregnancy stretch marks.
Tummy tuck is a surgical procedure which the most popular method for removing stretch marks. It removes the skin below the navel where the stretch marks can be found.
Laser treatments such as fractional laser resurfacing, uses a scattered pulses of light to help destroy the scar. However, it can only do a small portion of stretch marks per session, so you have to undergo several treatment procedures and that ain't cheap services.
Pregnancy Stretch Marks Summary
Pregnancy stretch marks cannot cause your health any harm but will definitely give you some stress due to its unappealing looks. If you are planning to have a baby, then you can still prevent stretch marks to occur by simply applying some massage and moisturizing creams, as aforementioned above.
However, if you already have have pregnancy stretch marks, then you can try either surgeries or laser treatments to help improve its appearance. But since these services are pricey, you have to learn the "art of hiding". What I meant is that, you need to use proper clothing to be able to hide those stretch marks.
Do you like this article? Have you learned something here? If yes, then I encourage you to help this post go viral online by simply sharing it to your social media profiles. The social media buttons are provided below for your sharing convenience.
Otherwise, you can share your opinion, suggestions or recommendations directly into this post by commenting below. Your opinions are valuable to each and every readers of this site.
So I encourage you to speak out and help others on their stretch marks endeavors, and lets start a healthy conversation regarding pregnancy stretch marks!
Recommended Health Supplement
NUYU SUPERFOOD
One of the bestselling and proven effective multi-vitamin, detox and immunity health supplement in the industry. You will never use your old supplement once you tried NUYU Superfood for your overall wellness program.
One of the bestselling health supplement online
Proven safe and effective formula
Detoxifies your body
Improves overall health
Anti-stress and immunity support
Provides superfood nutrients
Money-back guarantee
Click here to Purchase NUYU Superfood
Images from:
www.freedigitalphotos.net
pregnancy.about.com